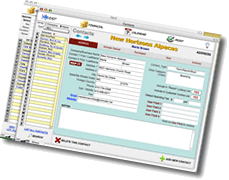 Available for all Windows computers (including Windows 10) and MAC 10.6 and later

For more information, be sure to visit our FAQs page

Download your free 30-day trial TODAY!

We encourage you to take advantage of our free trial period for AlpacaEASE/HerdEASE. There is no better way to be sure it will work for you, and it insures happy clients for us!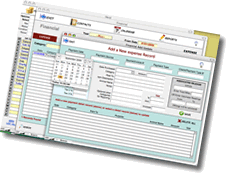 Includes the AE Mobile app for running AlpacaEASE on an iPad!!

Here's a brief look:
Consistent look and general design layout across all modules make AlpacaEASE easy to learn and use; "Expandable" screen formats and increased font sizes make your screens easier to read

Fully Cross Platform; all data, photos and documents can be copied and accessed between any MAC or PC computer; insert your photos and documents from anywhere and they will always stay with AlpacaEASE! (Note: Cross-Platform requires both the PC & MAC executables)
Easy to enter and maintain all your Herd/Animal data (ancestry, medical, breeding, fiber, shows, scheduled procedures); Contacts data; Financial data (expense, income, mileage and invoicing); Calendar reminders; and MORE!!
Codes are easy to setup and maintain, so you have better control of those drop-down lists; most can be added directly from your data entry screens, so you don't have to go to a utilities or setup screen to add a new code
More user-selected defaults for: currency, weight measure, distance measure, date formats, etc., to fit your "country" standards
Extract herd and ancestry data directly from AOA and AlpacaNation
Use the Reference Library to track your reference materials and sources, including direct links to your favorite websites
Pasture Rotation keeps track of your field/pasture changes
25 user-defined fields available to use for your own purpose
Use the Animals of Interest screen to track animals you may be interested in for future breedings or purchase. Animal and contact information can be manually entered, or extracted directly from your AlpacaNation or OpenHerd searches!
The Medical Library keeps your procedures consistent and provides for automated retrieval of dosage amounts (fixed or calculated by weight), next schedule frequency, drug lot expiration dates and more
Use Group processing for entering medical, weight, shearing and breeding procedures for selected "groups" of animals at the same time
New "Dynamic" Group option that automatically retrieves the current animals for the criteria saved each time you select that group!
Easier to enter photos with new "drag & drop" photo inserts
Document management: import documents in most formats or link to your important documents (such as AOA/ARI certificate, histograms, medical reports, insurance policies, etc)
New Animal "lookup" options make it even easier to select specific animals (including lookup by Group name, Microchip, Registry ID and Tag ID)
New "Scrollable" List screens added for Medical records and Financial records
Many reports can be run directly from the animal's Herd screen; or go to the "Reports Module" for a full selection of animal-specific & generic reports; you can even create your own Custom reports!
New and Expanded "Help" options: Use the menu bar "Help" option to access all the "How To" guides and "Features" Lists directly from AlpacaEASE; use the "Light-Bulb" icon for quick help on a specific screen or tab; use the "Question Mark" icon for help on a specific field; access & print the user guides (all in pdf files located in the AlpacaEASEv6/AE_User_Guides folder) for easy reference
Standard icons are used consistently throughout, with the same placement on most screens, to add a pleasing and easy to follow format
Track your Shearing, Fiber Histogram/Analysis and EPD records; insert scanned Histograms; import EPD data (downloaded from AOA/ARI)
The Calendar functions have been improved and expanded; easily select to "Process" a procedure or event directly from the Daily ToDo list or the animal's Scheduled items tab; select option to save completed items to the calendar (marked as completed) or to delete processed/completed items; "Scroll" future weeks on the "Daily" To Do pop-up list
Import and Export Calendar and Reminders between AlpacaEASE and your iCal & Google calendars!
Share your data with other AlpacaEASE users when you purchase, sell, board and contract animals
Our unique "Web Export" feature even creates web-ready pages to display all your animal records on your website; no more forms to fill out or photos to upload...AlpacaEASE/HerdEASE does it all!!
Download your free 30-day trial TODAY!